SURGE EPK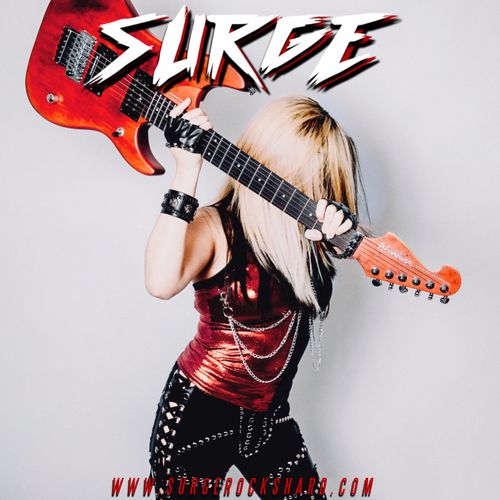 BIO
SURGE was formed in 2018 when vocalist Kät Jacksin entered a rehearsal studio to post a hand-written flyer that read..."Rock Singer Looking For Musicians." The receptionist directed Kät to a room down the hall where guitarist Dan Martini and bassist Erikk Lee met each Saturday to jam and drink a lot of beer. After listening to the duo play a few songs from the hallway, Jacksin opened the door and asked "you guys need a singer?" When drummer Guss Locke was added a week later after being scouted and stolen from a local cover band, SURGE was officially born! 
From the moment these rockers threw down their first power chords as a band, they knew they had just tapped into something totally bitchin'!!! A few months later, SURGE took the stage for the first time in Concan, TX.  Since then, the band hasn't stopped performing on stages big and small while also opening up for some notable national acts along the way! 
The band's captivating set easily transports audiences back to a time when rock ruled the world, while also introducing them to their own brand of music that never let's you forget what rock 'n roll is really all about!!!
SURGE has recently finished up work on their debut album and are set to release it in early 2023.
Booking and appearance inquiries may use the contact page or call Metal Cat Management at 214-499-6856.
DEBUT ALBUM OUT IN 2022
Pre-Ordered Vinyl Albums (Currently Sold Out) Will Ship Ahead of Official Digital Platform Release. 
Pre-Order Vinyl Album SOLD-OUT
Press / Reviews
"

A blend of AC/DC and Greta Van Fleet" - Kimberly Rubio
"

Uvalde's premier rock band" - Robert Miguel
"

...their energetic set was kind of like Frito Lay's — you can't have just one." - Jay K. Nanda
Press photos